I'm currently reading an autobiography by someone in a famous band. It's a great read but I'm not going to type out the name here because I prefer to fly under the search engine radar so that it's primarily friends reading this.
A million years ago, in the 90's, I had a moment with the singer of the band in said book (not the writer). Essentially he saw me at a show, liked what he saw and pursued me fairly intensely. He won me over (not too difficult to do back then if you were skinny, attractive and in a band), we hung out a few times in New York when he was here, spent a weekend in Philly together, and then he dropped me like the proverbial hot potato. In mid-phone call. Like one minute I was getting postcards from the road and we were chatting about something fairly benign on the phone, the next he said he had to go and hung up abruptly and I never heard from him again.
Well, never heard from him again in any real way. About six months later he showed up at my job looking sheepish, primarily because his bass player was dating my friend and she dragged them in. He apologized and said he'd take me out to dinner the next day and to make a reservation wherever I wanted. His band was filming for VH1 unplugged in the morning and he asked if I wanted to go to that as well. I said no because I was in the middle of bartending until 4 am and I didn't want to have to try to look cute that early in the morning, but that I'd see him at dinner. Which I did not, because he ghosted me again after I spent a day excited about it and planning out what to wear. So essentially he blew me off hard, twice. I cried into takeout with clean hair and a red dress laid out on the bed.
It was a bummer. And he got so stupid famous so quickly right after we met that his photo and voice were everywhere. It stung to know I was on the outside of that. But happily it hadn't lasted long enough for me to get seriously hurt and I would never have been able to handle it anyway. I was in no mental or emotional shape to take on a rock star at that level. So it was all for the best.
But at the time I didn't see that, I just thought that I screwed up majorly, as usual. That I was too open about liking him and about who I was and it caused him to lose interest. In the beginning when I didn't care he was all over me, once I opened up about who I really was, not as cool or sexy as I put on and in actuality pretty midwest normal, he was gone in a flash of roadrunner smoke. I got over him but I didn't get over the idea that I was the sole fly in the ointment.
I had one photo with him from that brief time that a friend sent through myspace that I didn't keep, because it was terrible. He and I were walking down the street together but looked completely separate energetically. I had my usual big, stupid, no idea I'm about to get stomped on grin on my face, while he appeared decidedly unhappy. We'd might as well have been on different planets. It was a visual representation of what I couldn't see.
And then every time I ran into him over the years, which happily wasn't often, it was some less than ideal situation in which I was still suspect. Like I was having a crap week and ended up sitting by myself in a dive bar one evening after work, visiting a bartending friend and sulking into a glass of whiskey, trying to be deep and jaded like a character in a noir film, but looking less than stellar in slightly tearstained, day-worn makeup and some crappy basic work outfit. In he walks with a much more put-together girlfriend with much cleaner hair and no runny mascara. Oh yay, hey, it's me, the weird lonely woman you screwed a few times, drinking in a bar by herself. Nothing depressing to see here! Or another time when I passed him on the street looking cheap as hell in an accidentally too lowcut dress for the time of day, covered in dog hair and saliva as I wrangled my brain-damaged Pekingese who happened to be in mid-seizure at that moment. Bet you're sorry now that you let go of all this magic, you bastard!
I am the Lucille Ball of rock chicks.
I recently told my business partner that the thing to remember when fighting with me is that I secretly believe that all conflict is due to me being fatally flawed, so if we ever have a bad argument he just has to wait it out to win. I will get angry and argue stridently, but then I'll go home and dissect all the ways I should or shouldn't have done or said this or that. And then I'll feel so bad about myself I'll eventually capitulate to whatever is placed on the table.
I also had a conversation with my supersmart friend Grace, one of those ones where you sit in your apartment after a night out and just break it all down with tears and oversharing. She listened to me spill about the pain and confusion I still feel at times about the losses over the last few years, how hard it has been for me to heal and and how deeply it hurt me that some key people I loved simply stopped caring about me. This was coupled with the added insult to injury that at the same time that these deeper abandonments were happening, strangers were going out of their way to hurt me over imaginary laptop theft and old photo posting*. It was all too overwhelming to be coincidence, but why?
*See past blogs if you're interested.
I mean, I know the spiritual reasons why – change, expansion, growth, clearing old energy to make way for the new. Blah, blah, barf. I get it. But that mental knowledge doesn't change how the heart feels. And because of the aforementioned secret thought that every action and reaction around me is bearing upon my behavior and "badness" or "goodness", not being able to fix these connections means that I failed. My failure. Not good enough. Never good enough. If only. Shoulda, woulda, coulda. The brain contorts in excruciating fashion.
Happily, Grace said something pretty basic that I needed to hear, which was "You can't control people. People have their own trajectories and demons and feelings separate from anything to do with you, and you can't always create the outcome you want no matter what you do or say."
I hadn't considered that. What is this lack of control that you speak of?
So now I'm reading this book and guess what! It turns out that this particular guy who I assumed was amazing and who rejected me for not being amazing, is in fact BATSHIT CRAZY. Like more than usual singer crazy. Like bipolar and narcisisstic crazy. Like impossible to get along with crazy. Like someone I don't know that I'd want to be friends with crazy. Like exactly like a psycho, sociopathic ex-bandmate that I will never speak to again crazy.
Oh.
OH!
OOOOOHHHH!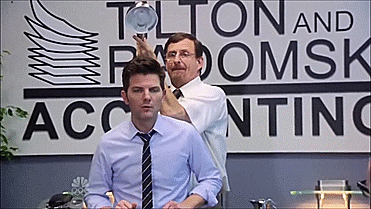 So could it be possible that this particular rejection, and maybe others in my life, may have had less to do with my awesomeness or lack thereof than I assumed? Maybe that one photo just captured me being my optimistic self and his darkness in that moment was his own? And in following that train of thought, does that mean that the decisions of others are not necessarily directly influenced by the things that I do or say? And does this mean that the world, in fact, does not revolve around me??
Impossible! No! This cannot be. And yet….
The amount of thought and energy wasted on that one situation that could have been dismissed almost immediately, then add that to the myriad situations one has in a lifetime–the mind boggles. Suffice to say that I'm pretty glad I picked the book up.
So when will we be able to relax and allow ourselves to be who we are and shine clearly without all that fog? I dunno. I'm not sure it's possible to move forward without truthful self-examination, but where does dissection end and flagellation begin? We screw up, we get up, we do better next time. Some people get us and like us, some people never will, and some people seem like they do but then let us down. That's life. I'm tired of thinking about it in any other way than to focus on the people and opportunities that lie in front of me. The rest, at the end of the day, is all noise.
At least until #45 and the coronavirus take us all down.
I kid! I kid!! Namaste, bitches. Wash your hands.